Select Advanced Action
Recover Keys can scan local computer for installed program license keys, will scan all network computers, can recover product keys from another hard-drive (bootable or non-bootable), scan another Windows OS, if you have more than one installed on your external hard-drive. This actions can be selected in the "Select action" dialog at Recover Keys, which is displayed when keyfinder is launched. From this dialog user can set "Advanced action" also, which allows to chose more advanced scanning options. All Recover Keys advanced actions described below.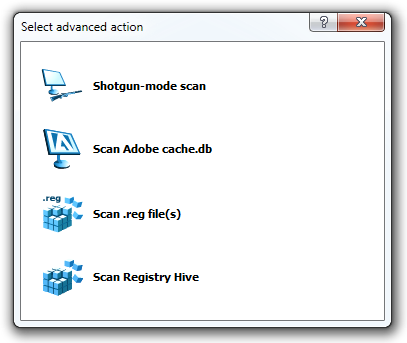 The "Select advanced action" dialog box includes a list of actions that can be performed by selecting the proper action.
"Shotgun-mode scan" - This scan type was created as a small tool for our users, who wanted to help us extend our databases of supported software. It is a different approach to find product keys. It's scanning registry for certain names (like Serial, RegCode, ActivationKey, etc.) When scan is finished, users are asked to help us improve Recover Keys database for future versions and send us list that was found in the PC. So we could check if something is not included. We beleive that everyone will benefit from it.
"Scan Adobe cache.db" - Select this action if you would like to scan for Adobe products manually. Adobe's cache.db file contains important information including licensing. Recover Keys will scan adobe registration file and retrieve required information. This file is located (by default) in "C:\Program Files\Common Files\Adobe\Adobe PCD\cache".
"Scan .reg file(s)" - This action allows to scan *.reg files. Select this action if you want to scan .reg file exported from 'regedit' or other program.
"Scan Registry Hives" - When this action selected, you would be able to scan Registry Hives, previously exported from 'regedit'
"Select Advanced Action" dialog can be opened from the "Select action" dialog box which is launched by default when Recover Keys starts. Also, you can run this dialog from the Recover Keys Toolbar "Select action" command or using (F3) hot key.