What's new in Recover Keys version 11.0
10,000+ software programs supported
About 1000 new programs were added to our list of supported programs, since last version of Recover Keys. Take a look at chart below on how numbers of supported programs increased in versions of Recover Keys: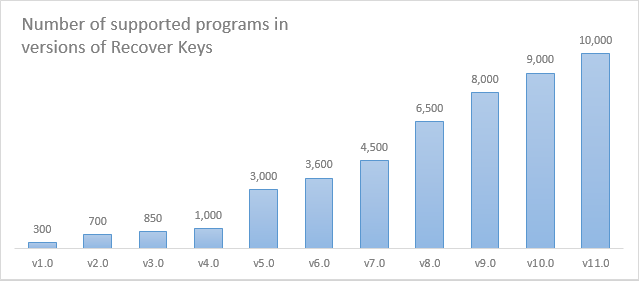 Cloud databases
Main new feature of this version is cloud databases of your product keys. Upload your product keys securely with Recover Keys software and access it from anywhere via web-browser or mobile.

For more information on how to use cloud databases click here.


JSON format
You can now export your product keys into JSON file format.


Incorporated scheduled backups of keys
With integrated scheduler you can make a scheduled scans for product keys to have backups in the cloud or local database (Available in Enterprise version only).


Significant updates to Mac Product Key Finder
Added support for the latest Mac OSX 10.14 Mojave with dark-mode support.

We've added significant amount of new Mac applications into our database of supported software for Mac Product Key Finder. To see the full list please refer to this page: Mac Product Key Finder - supported apps.


Better "Deep scan" filtering
Improved deep scan data filtering, deep scan now filters out more unrelated to product keys data.


Scan filter for remote scanner
Remote scanner can now filter out results set by filter in Options => Scan filter.


CMD/CLI improvements
Added new command-line options, mainly to support new "cloud databases" feature.
Command-line version can also now do a simultaneous scan of network PCs, which will improve overall performance when scanning network. Please refer to this article for more information: Command-line version usage


Older operating systems support
Apparently, there are still many users of older Windows versions (according to our customers). Recover Keys is now fully functional on Windows 2000 and newer versions.


Right to left text support
For RTL languages like Arabic and Hebrew, right to left text is now supported.


Localization
Now available in 28 languages: English, Deutsch, Español, Français, Italiano, Nederlands, Dansk, Svenska, Norsk, Suomi, Český, Magyar, Ελληνικά, Polski, Português (Portugal), Português do Brasil, Türkçe, Română, Bahasa Indonesia, Українська, Русский, ქართული, 日本語, 한국어, 简体中文, 繁體中文, Arabic, Hebrew.


Download
Order now