What's new in Recover Keys version 10.0
9000+ software programs supported
About 1000 new programs were added to our list of supported programs, since last version of Recover Keys. In this version, we've added support for a lot of software from Japanese and German software vendors, as well as worldwide known vendors. Take a look at graphic below on how numbers of supported programs increased in versions of Recover Keys: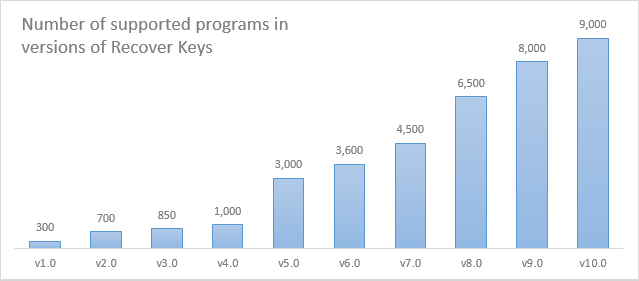 Product keys databases
Main new feature of this version is locally stored database of your product keys. You can add manually product keys which Recover Keys scanner cannot find, as well as keep up-to-date database of your product keys found by scanner.

For more information on how to use product keys databases click here.


Significant updates to Mac Product Key Finder
We've added significant amount of new Mac applications into our database of supported software for Mac Product Key Finder. To see the full list please refer to this page: Mac Product Key Finder - supported apps.


Scheduled tasks
You can create scheduled tasks for Recover Keys to run itself when you want and save your product keys into database or a folder. You can add scheduled tasks in the Options dialog => "Scheduled tasks" tab. (Available in Enterprise version only).


Basic Operating System info is fetched
Such as Windows install date, default browser and mail client, if Windows is genuine, last boot and shutdown time and many more. (Turned off by default, you can turn it on in Options dialog).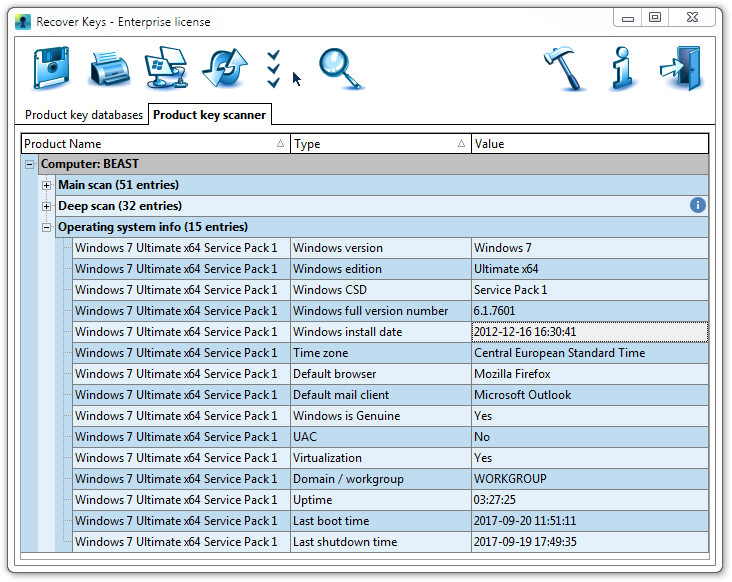 Generic Windows and Office product keys detection
Recover Keys can detect if generic product keys have be used during activation of Windows or Office.

For instance, if you upgraded to Windows 10 on your PC by taking advantage of the free upgrade offer and successfully activated Windows 10 on your PC in the past, you won't have a valid Windows 10 product key, and you can skip the product key page by selecting the Skip button. Your PC will activate online automatically so long as the same edition of Windows 10 was successfully activated on this PC by using the free Windows 10 upgrade offer.


Partial product keys
Some software applications store only partial product keys instead of full product keys in the system. Partial product keys still can be useful if you want to find full product key in your email or to contact software manufacturer's support.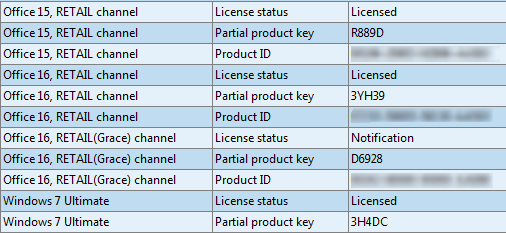 License expiration info detection
Some software licenses may have expiration dates (i.e. Windows, Office, VIPRE, etc.). Recover Keys will now detect and show it.


Better "Deep scan" filtering
Improved deep scan data filtering, deep scan now filters out more unrelated to product keys data.


Improvements to "Another Windows OS scan"
Will also scan files for license information, not just Registry.


CMD/CLI improvements
Added new command-line options, mainly to support new "product key databases" feature. Please refer to this article for more information: Command-line version usage


UI re-design
We've re-designed user-interface of Recover Keys to a more modern, clean and simple to use interface.


Localization
Now available in 31 languages: English, Deutsch, Español, Français, Italiano, Íslenskur, Nederlands, Dansk, Svenska, Norsk, Suomi, Eesti, Český, Magyar, Ελληνικά, Polski, Português (Portugal), Português do Brasil, Türkçe, Română, Bahasa Indonesia, Українська, Русский, ქართული, 日本語, 한국어, 简体中文, 繁體中文, Arabic, Hebrew, Thai.