How to recover lost Microsoft Windows license key?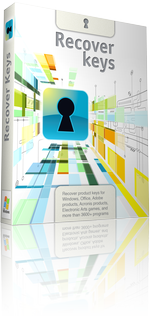 If you want to reinstall your Microsoft Windows, you will need its license code, which is long and impossible to memorize. Normally, it's found on the holder for your Microsoft Windows CD or in other documentation provided. If you lost the CD case or the document, you're locked out. But there is a Microsoft Windows keyfinder called Recover Keys that might actually help you to find Microsoft Windows key.

With Recover Keys you can easily get serial numbers and other registration information for more than 10,000+ program packages, including Microsoft Windows, Microsoft Office, Alcohol 120%, Acronis TrueImage, Disc Director, SlySoft AnyDVD, CloneCD, Adobe Photoshop, Nero, Camtasia Studio, Electronic Arts games and many more programs. This Microsoft Windows keyfinder works with every version of Windows (NT / 2000 / XP / Vista / Windows 7 and Windows 8. 32 bit or 64 bit system).
Download
Order now
How to recover lost Microsoft Windows activation key with Recover Keys?
First, download Recover Keys and install it on your computer. Please note that trial version of Recover Keys will show only the first 4 characters of each serial code, including lost Microsoft Windows serial

Follow a few easy steps to retrieve Microsoft Windows key and recover other product keys:
Launch your Microsoft Windows keyfinder and select the "Scan local computer" option. Besides scanning your local computer for activation keys, "Recover Keys" can also scan another Windows OS (in case you have more than one), remote computer or the entire network.




Microsoft Windows keyfinder will scan your entire system for installed software and will pick up its activation keys. Microsoft Windows key viewer will retrieve Microsoft Windows key and license information for other software installed. Note that this Microsoft Windows key viewer works only if you have Microsoft Windows or any other program already installed on your computer.
Save revealed activation keys into a file on your computer or simply print it. You can backup product keys to Word, Excel, CSV, XML and other files.
Now you can be sure that even if your system crashes, you can easily reinstall all software without having to search for license keys.