How to recover lost Adobe Photoshop CS-CS6 license key?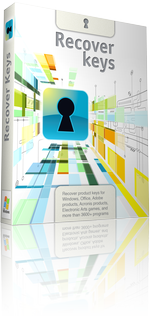 Have you lost Adobe Photoshop license key? You can easily recover lost Adobe Photoshop activation key with Recover Keys. In case of a computer crash, you lose hundreds of dollars if you cannot find your product keys. Even losing serial number for Microsoft Windows can cost you more than $100 to buy a new one. With Recover Keys you can prevent losing your license keys and money.
Recover Keys is a lightweight Windows application that finds over 11,000+ popular software product keys. Recover Keys displays product keys for Microsoft Windows, MS Office, Acronis products, Nero, Adobe products, Adobe Photoshop and a lot more popular products installed on local or remote network computers. For a full list of supported software, please read here.
To install or reinstall Adobe Photoshop or any other software, you must have access to product license key or a CD key. Recover Keys also retrieves serial keys from network computers and allows to protect yourself or your company from having pirated software on the network.
With this Adobe Photoshop key viewer you will be able to find and recover lost Adobe Photoshop activation key, as well as save and keep an updated backup of license keys for all your software. Recover Keys is a perfect tool both for individual use and for network administrators at large enterprises, or companies and small businesses undergoing a software license compliancy.

Adobe Photoshop with the following version numbers are supported: 5.0, 6.0, 7.0, 8.0, Album 2.0, CS, CS2, CS3, CS4, CS4 Extended, CS5, CS5 Extended, CS5.5, CS6. Adobe Creative suite and other Adobe products are supported as well. For full list follow this link.
Download
Order now
Now, you can save your time and money having the backup for all your product keys. Please note that trial version of Recover Keys shows only the first 4 characters of a serial code.