Récupérateur de Clés d'activation de Windows, Office et plus de 10,000+ logiciels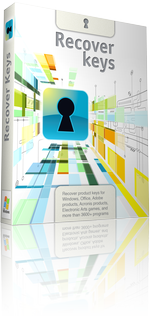 Recover Keys est une application Windows simple mais complète conçue pour protéger les clés d'activation des programmes installés sur un ordinateur local ou appartenant à un réseau dans le cas d'une panne de votre système ou du disque dur.

La perte des clés d'activation coûte cher en temps et en argent. Vous devez contacter les développeurs de chaque programme ou, au pire, acheter de nouvelles versions de tous les logiciels.

Maintenant vous pouvez vous protéger et faire une copie de vos clés! Recover Keys analyse rapidement votre système pour détecter la présence de plus de 10,000+ logiciels et crée une liste de leurs clés d'activation. Ensuite, les informations des licences, vous pouvez les sauvegarder, en faire une copie, les imprimer ou les exporter sur des fichiers Word, Excel, PDF, HTML, CSV, XML. Recover Keys, grâce à son interface amicale et le nombre élevé d'options, peut être utilisé par des utilisateurs professionnels et sans expériences.


Télécharger Acheter
Récupérateur de clés
Récupère les clés des produits Windows, Office, Adobe products, Acronis products, Electoric Arts games, WinZip, Nero et plus de 10,000+ autres logiciels
Sauvegarde des clés d'activation
Perdre les clés des logiciels peut couter cher en temps et argent. Vous pouvez faire une copie des clés de vos logiciels sur un fichier texte, Word, Excel, PDF, HTML, CSV, XML ou les imprimer.
Analyse d'un autre Windows ou HDD
Recover Keys peut aussi analyser un autre système d'exploitation Windows ou un autre disque dur (HDD), amorçable ou pas, pour récupérer les clés d'activation des programmes installés
Analyse d'un ordinateur dans un réseau
Recover Keys n'analyse pas seulement l'ordinateur local, mais peut aussi analyser d'autres ordinateurs appartenant au réseau.
Mises à jour automatiques
Nous fournissons un support technique et des mises à jour sur base régulière. Actuellement, ce récupérateur de clés fonctionne avec plus de 10,000+ logiciels, mais nous travaillons constamment pour ajouter de nouveaux logiciels et mettre à jour la base de données
Configuration recommandée
Fonctionne avec Windows NT / 2000 / XP / Vista / 7 / 8 / 8.1 / 10 / 11. Systèmes à 32 bit or 64 bit. Aucune configuration spécifique n'est requise.




Quels logiciels sont supportés par Recover Keys?
Recover keys supporte 10,004 logiciels, parmi lesquels :
et beaucoup d'autres. La liste complète des logiciels supportés se trouve à cette page.
Reviews from credible sources
Softpedia

Recover Keys is a powerful Windows tool designed to help users recover product keys for Windows, Microsoft Office and many other installed apps. As compared to all the other apps on the market developed to serve the same purpose, Recover Keys provides many more options, allowing you not only to scan the local computer, but also network workstations, another Windows operating system or various Windows components.



For example, Recover Keys can look for product keys in the Adobe cache.db file if you're trying to get the license key for an Adobe piece of software, but it can also check registry files for available information. A standard scan doesn't take more than a few seconds, with Recover Keys showing the product name, type and license key in a very well organized interface.



What's more, the application lets you export the collected information to a number of popular formats, including TXT, HTML, Word, Excel, PDF, CSV or XML.
Although a help section isn't available in the app, the developer lets you ask for technical support using an online contact form, but an Internet connection is obviously needed.
The program however works smoothly on all Windows versions and it doesn't affect the overall stability of the system. No administrator privileges are needed on Windows 7 workstations.
To sum up, Recover Keys is clearly one of the best tools developed to recover lost product keys. It provides a great feature package and comes with a straightforward GUI that makes everything easy as pie for all user categories.

Read more... ▼

About.com

Recovery keys is an excellent, full featured keyfinder program.
Pros: Supports a huge list of programs and games, well designed interface, scanning of networked computers is very easy. Cons: Keys are not displayed instantly, installation is required.



Finds Keys for Operating Systems: Microsoft Windows 7, Vista, XP, 2000, and NT. Finds Keys for Other Software: Most Microsoft Office programs, Adobe applications, and many other popular programs - well over 800 in total. I tested Recover Keys using their demo version which restricts product key recovery to the first 4 characters.

Read more... ▼

ComputerBild

Finally, no stress when you reinstall a program.
Originaly was writteln in German: Endlich keinen Stress bei der Neuinstallation eines Programms
Click here to read more...